Filmmaker Visits East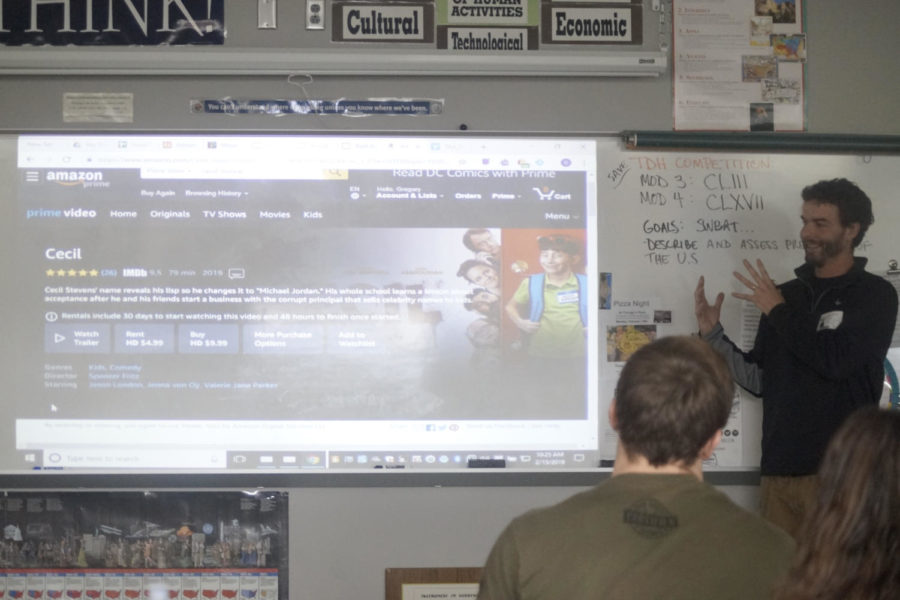 Sharing a personal problem that happened throughout a childhood sounds terrifying. Pushing past this fear, writer, director and videographer Spenser Fritz produced a movie all about his childhood issue. Fritz had a speech impediment that made it nearly impossible for him to pronounce the letter 'r', so Spenser Fritz wasn't the easiest name to have.
"I got picked on a little bit and it was frustrating because people that already knew my name would come up and ask me what my name was just so they could hear me say it and laugh," Fritz said.
Fritz was put in many positions where being different was bad or weird. Fritz wanted to let other children and adults who were seen as different to know that it was okay to be who they were. Going to college to study filmmaking, Fritz decided to use his skills and create a movie. The film turned out to be an 80-minute comedy called "Cecil".
"The main thing that came from my real life that made it into the movie was the speech impediment and then the name," Fritz said.
Relating back to Fritz, Cecil Stevens has a horrible lisp that prevents him to pronounce his own name correctly. After numerous accounts of being made fun of and laughed out for his lisp, Cecil decides to change his name to Michael Jordan, pro basketball player.
With his close group of friends, Cecil makes his way through fourth grade. The movie uses a sense of humor and Fritz made sure he included a decent amount to make it more enjoyable.
"The subject content is kind of funny; that and three of the four movies I made in film school were comedies so I think everybody knew that was my path," Fritz said.
Choosing to do a comedy makes more people attracted to go watch it. One of Fritz's main goals was to show people of all ages that it's okay to be different and to embrace it. Several years later, Fritz doesn't have his speech impediment and wants to share how he dealt with it and what happens if a kid follows their dream.
Although Fritz doesn't classify his issue getting him "bullied", he got made fun of quite a lot and he wants to share with others that didn't stop him from continuing what he wanted to do. Columbus East High School impacted his decisions and helped him get through his teenage years. Many teachers like, Mr. Lewis, stayed with Fritz and kept him on the right track.
Despite Fritz being known as a trouble maker, he stayed with school because of the teachers and they were able to push him ahead into the next chapter of his life. Now making several films and being a photographer and editor for Tennessee's NFL team, the Titans, Fritz wants to share his most relatable piece with the public.
Fritz's first showing of the movie was on Feb. 16 at the YES Cinema in downtown Columbus. For the crowds that were unable to make it, "Cecil" is available to download on Amazon, iTunes, Vudu and many smaller streaming websites.