COVID Can't Stop Us
COVID-19 has put many things on hold this year. Events, parties, vacations and even sporting events have been canceled for the better half of 2020. But this has not stopped the Olympian boy's tennis team from starting their season off strong.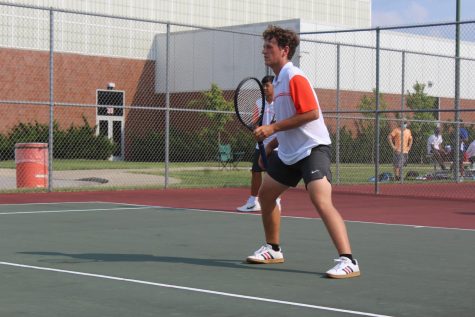 The boy's tennis team has had a rough couple of years in the past. But this year, the team had a win streak of five in a row.
"We had a good winning streak of five in a row so we're actually on one of our better seasons," junior Derek Heideman said.
Top varsity singles players senior Pranav Kumarsubramanian and senior Daniel Murphy have both led the team with best their match scores being 6-0, 6-4 vs East Central and 6-1, 6-0 vs East Central.
While winning matches has been a top priority for the team, staying safe has also been a priority. Due to COVID-19, many sports have had to change up how they run. Whether that is changing the number of fans allowed at games or wearing a face covering while attending. Sports are definitely not the same as they have been in the past. 
"When we're not playing during games we have to wear our masks and we can't shake hands with our opponents either," senior Carlos Fernandez said. 
The team has also not been able to share equipment because of too much contact with other players.
"We can't really touch the balls anymore so we have to use our rackets to kick them up with our foot," sophomore Jimmy Clark said. 
But overall COVID-19 has not been able to stop them from having a great time together and from having a good season. 
Leave a Comment