Meet the Staff: Corbin Morris
Memories tend to be something that comes and goes. For certain people, their fondest memories come from their childhood. Words are replayed in our minds, actions are not forgotten, but people that matter to us the most seem to stick around in our thoughts the longest. For senior Corbin Morris, his grandpa was the person that never left him. 
"We were always close when I was little. He died when I was younger, so it was sad that he wasn't able to be there as I grew older," Morris said.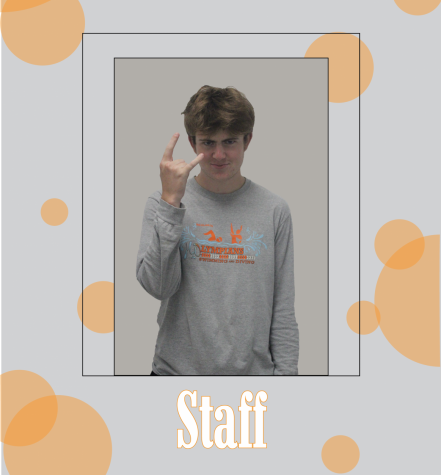 Not only has his grandpa impacted him the most, but baseball also played a role in this duo. Morris played baseball throughout his youth and up until his freshman year of high school. His grandpa had a soft spot in his heart for the sport so, playing for his grandpa, he had a set goal of doing his best every game.
"He had a big impact on how and why I played. He was always into baseball and I loved the sport, so it was fun for the both of us," Morris said. 
The passion that Morris had for the sport of baseball was high, as he played multiple positions. First base and pitching were his go-to spots on the diamond and he knew that both had expectations he had to live up to. Every play, every movement, and every word he used knew that it would matter to him in the long run. 
When the first year of high school was quickly approaching, Morris realized his love for that sport had been slowly dying off. He was not feeling the same energy or excitement from games as he had in his past few years of playing. 
"I was feeling a little burnt out and didn't have it in me anymore. It was actually a tough decision to not play anymore, just because of the relationship I had with my grandpa and the sport," Morris said.
Although this hard choice weighed on him, he quickly came to realize that no matter what his grandfather would always be proud of him and cheer him on. About four years later, as a senior in high school, Morris's lifelong friend and grandpa will always have a spot in his heart and be a special, recurring thought in his mind.   
Leave a Comment