#7 Fever
10 years later, Justin Beiber and Sean Kingston's song, "Eenie Meenie," has resurged and become stuck in the heads of many. This is from a single video going viral on the app TikTok with the song in the background. 
On Oct. 7, a student videographer at Stevenson High School in Michigan, posted a video on TikTok of her high school football team in the locker room dancing and singing to Beiber and Kingston's song. Little did she know, her video blew up to 32.3 million views with the main football player singing at the beginning going viral.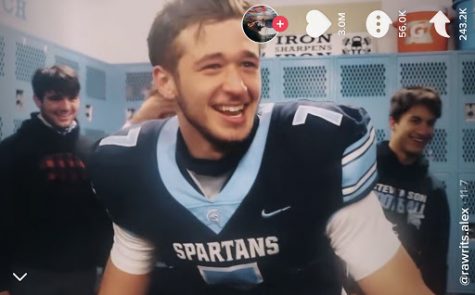 Known throughout social media as #7, senior Caden Woodall has made everyone on TikTok fall in love with him. With millions of views on the original video, Woodall became an overnight sensation. 
Woodall is a running back with 2238 yards and 34 touchdowns this season, according to Max Preps, and is committed to Harvard University to continue his football career. The Stevenson Spartans football team went 4-4 this year. 
The student videographer from Stevenson, Alex Hampstead, shared on TikTok a couple of days after her video went viral that her school was forcing her to take the video down. This was because the football team in the locker room was not wearing masks. Hampstead took down the video for a couple of days but ended up putting it back up. The original video received even more recognition after the reposting. 
Since #7 was taking over the media platform, users began to look for the name behind the number. Woodall's TikTok account was found and began gaining thousands of followers even without having any videos posted. He also began gaining Instagram followers. 
11 days after Hampstead's video, Woodall posted his first video filmed by Hampstead that also went viral. In less than seven hours after the posting, Woodall had 12.5 million views, with a total now of 44.2 million. He has also posted other videos with millions of views and has 1.7 million followers on TikTok. 
Not only has #7 found popularity, but "Eenie Meenie" has regained fame in a short time. This is understandable since the song fits for the hypest video of 2020. 
View Comments (1)