East Installs "Cadillac" Track
Over the summer, a new long overdue track was installed at Columbus East in replacement of the rubber surface. The old track was several years old and "literally crumbling apart" according to athletic director, Pete Huse.
"Much of the rubber surface was missing and it had potholes all over it," Huse said, "It was becoming very dangerous."
The East athletic department decided to purchase the new track through the Leslie Coatings company located in Indianapolis.
The installation began the first week of June, immediately after school was dismissed for the summer, and was completed during the second week of August after the 2017-2018 school year had begun.
Since the installation, students have been questioning the color of the new, red track. For track runner Keeleigh Kikendall, the track doesn't seem to match East's school colors.
"I don't know why they would have chosen red if that's not our school color," Kikendall said.
Leslie Coatings offers multiple options for track surfaces, some of higher quality than others. The athletic department chose the higher quality surface material for the new track at East, and the color options were limited.
"It's like the Cadillac version of tracks," Huse said, "and it only came in red."
An orange track was the ideal choice for the Olympian track; however, a better quality surface was more imperative than a matching color.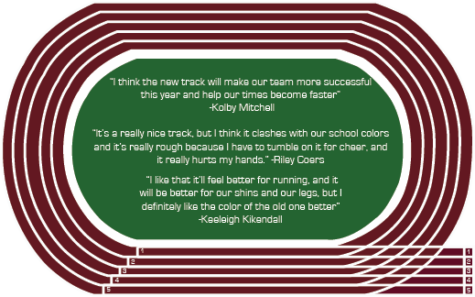 Hang on for a minute...we're trying to find some more stories you might like.