Coach Chitty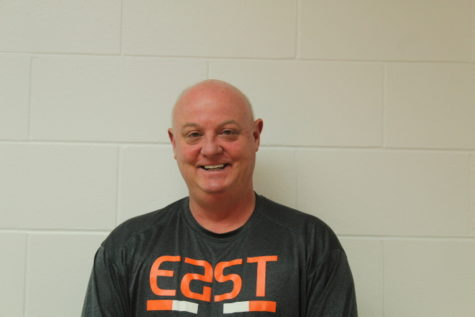 If you know Coach Chitty, you know his famous line, "Blessed by the good Lord".
Coach Chitty was born and raised in Bloomington, Indiana. He has been married for 25 years and has two kids.
Coach Chitty enjoys hunting, fishing and spending time with his family. He also enjoys spending his alone time playing guitar.
Chitty started coaching basketball 34 years ago and began teaching 33 years ago.He shared that he began teaching and coaching because, "I was blessed to have great teachers and coaches in school, so I wanted to give back to those who helped me."
When I asked Chitty what he enjoys the most about teaching he said, "The kids, I enjoy watching them grow and helping them on their journey and being there to make it better and easier."
Also, if you know Coach Chitty you know how he is always happy and positive. When asked why, he said, "I have great faith in God and I know that I am blessed. I can't imagine needing anything more in life than what I have."
Asked why it is important to always encourage your students he replied with, "I never hear people complain about someone being positive; only people complain when people are negative. Positive people are more highly motivated." Following up with, "Be Positive."
As Chitty answered my question of "How do you manage to keep a positive attitude in the classroom when you're having a bad day?", he said, "I dont have bad days. I believe when you wake up in the morning there's only one person in control of your day, and that's you. There's gonna be a lot of things come your way that are bad…but you're still in control of the attitude you take to go about a decision"
Wrapping up the interview I asked, "Is there anything else you would like to add or share?" He replied by saying, "Well, I'd just like to put on record that I am better looking than Brad Pitt." as we shared a laugh.