J. Cole Returns – "KOD" Album Review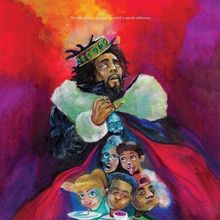 J. Cole shocked the internet with a short notice for his fifth studio album release April 20. The album, entitled "KOD," has three subtitles according to Cole: "Kids on Drugs," "King Overdosed" and "Kill Our Demons."
The album consists of 12 tracks covering a wide range of topics, but with the recurring theme of addiction. The album art itself reads "This album is in no way intended to glorify addiction," making it clear that Cole is addressing the issues of drugs, not supporting them. This is no surprise, considering Cole's track record of activism in his music.
On the title track "KOD," Cole goes in on the "Kids on Drugs", A.K.A. the flashy, mainstream rappers who he will come back to address in the track "1985 (Intro to 'The Fall Off')".
A drastic transition is felt as the album returns to an ambient instrumental and a smooth flow by Cole on the track "Photograph." In this song, Cole addresses the issue of holding real relationships in today's digital world.
To finalize the album's main message, Cole includes "Window Pain (Outro)," a deeply personal discussion of what Cole has always wanted in life and what he wants now. We see that Cole realized that rather than money and fame, he wishes he could talk to loved ones who have died or help his mother in the times she needed him.
After the message of his album is delivered, J. Cole includes one last track entitled "1985 (Intro to 'The Fall Off')." On this track, Cole subliminally disses new wave rappers who he says will not last in the spotlight. Unlike a traditional diss track, however, Cole gives these rappers advice to be smart with their money and realize that their fan base will eventually outgrow their trendy music.
It is hard to place where "KOD" sits in J. Cole's lineup of career albums. While entirely up to opinion, I see this as J. Cole doing more with less in this album. He purposefully seems to tone down his style, indifferent to how this album is received. While many listeners see "KOD" as another shortcoming to his beloved "2014 Forest Hills Drive," J. Cole is changing his approach to music entirely by emphasizing activism over appeal in many aspects of his production. Cole feels authentic if nothing else, and it seems that even without a lead-up or any serious promotion campaign, "KOD" is topping the charts.