Juniors look forward to joining National Art Honor Society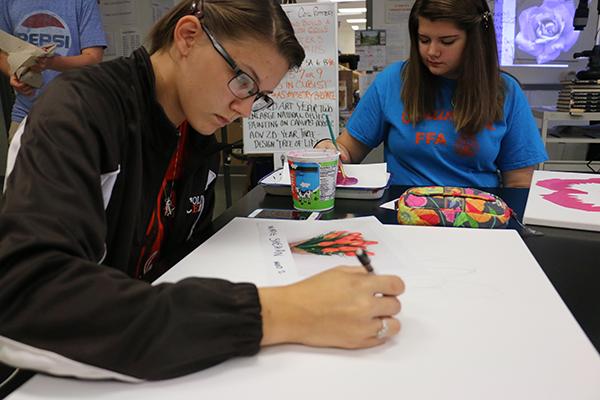 All over the United States, schools teach art classes. East offers 2D art, 3D art, photography, and graphic design. By being a junior or senior and having earned at least an A- in at least two semesters of these art classes, students can get invited to be in the National Art Honor Society (NAHS). NAHS is a nationally recognized student organization in which students learn more about art and use it to impact the community.
Two students new to East's NAHS are juniors Madie Shehan and Ashlyn Mills. Both Shehan and Mills are in Denise Kocur's 2D class. Shehan recalls trying to get into NAHS since sophomore year but wasn't allowed as she was not yet in 11th grade.
To a lot of people, art is just something to do when they are bored and just for doodling, but for Shehan and Mills, it means something more.
"The satisfaction of making an amazing art piece for someone and seeing their reaction when they see it. I love painting more realistic and abstract art," Mills said.
But for Shehan, art means something else.
"Art helps me express myself without using words and I like drawing more photorealistic," she said.
Both plan on staying in NAHS and can't wait to go to the meeting on Wednesday.
NAHS is a program to teach students about the meaning and the world of art. Because of this program, students gain experiences available from no other source and discover the range and variety of what they are capable of.
The first meeting for NAHS is Wednesday in room C116.