East senior completes French language immersion program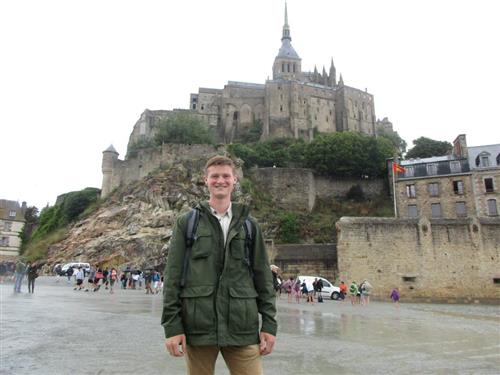 After studying the French language for three or four years, a student can become fairly fluent. Some become fluent enough to take a trip and receive the entire experience of speaking that language in a real setting. That is the case for a few select students at East High School.
Being in a class allows you to learn reading and writing a language, but going to the place where the language is spoken is an entirely different experience. Columbus East Senior Jacob Harpring took a brave step and decided to apply for the IU Honors program by taking a written test.
"My French teacher, Melanie Enkoff, was the person who encouraged me to go on the trip," Harpring said.
Harpring was able to take this trip through the IU Honors Program. In order to be eligible for the trip, students must take a language test that assesses their grammar, reading and listening comprehension.
"I prepared for the test by studying some verb conjugations and working with some vocabulary," Harpring said.
Students who pass the exam are invited to apply for the unforgettable experience of studying abroad.
"When I received the news that I had passed the exam, I was really excited to be one step closer in the process," Harpring said.
After passing the test, Harpring was then ready to begin the application process.
"It was extremely lengthy and I was relieved when I finally completed it," Harpring said.
This long process did, however, pay off. When Harpring arrived in France, he stayed with an older couple who had lived in France their whole lives.
"The elderly couple that I stayed with on my trip had two older kids, around the ages of forty or so. I was able to meet them, but they did not stay with us," Harpring said.
Harpring saw many of the popular places of interest in France, such as the Eiffel Tower and Le Louvre, but he also saw something that was not as widely known.
"On the 21st of June, which is the longest day of the year, there was a music festival. Thousands of people roamed the streets listening to bands that were set up on every corner. I heard every kind of music imaginable. It was very cool," Harpring said.
Another place Harpring visited was Normandy.
"It was one of my favorite parts of the entire trip," Harpring said. The Normandy area is nowadays divided into two regions: Upper Normandy, the eastern half, and Lower Normandy, the western half. Harpring spent his day in Normandy on Omaha Beach. Omaha is located on the Coast of Normandy, facing the English Channel.
Some additional information Harpring shared about his trip were different things that surprised him in France. He commented on the price of gas and the driving style.
"Something that surprised me while I was in France was how expensive things are. For example, gas in France is three times as expensive as it is here in the United States. On a similar note, people in France are the most insane drivers in the world. They are absolutely crazy," Harpring said.
"Overall, I really enjoyed the trip, and I would recommend it to anyone who wants to further explore their foreign language of choice," Harpring said.