New Journalism Class Next School Year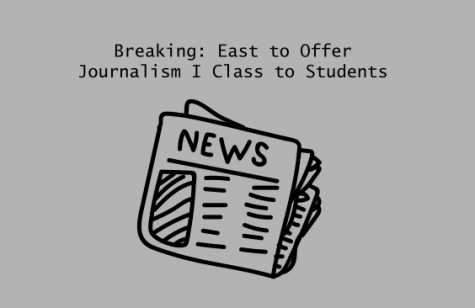 Each new school year, East always brings new and exciting opportunities. Part of what East represents is allowing those who attend to have a voice in activities that happen around the school. As students, we like to express ourselves through our school newspaper and yearbook. 
Being apart of these classes allows students to express themselves through a story or pictures. These classes provide a way for students to connect and read other people's stories around the school. 
Starting at the beginning of next year, East will be offering a new journalism class. The class will be a prerequisite for newspaper or yearbook and will provide students with a deeper understanding of how to improve their writing. It will also feature journalism history, ethics and media literacy curriculum.
In past years, students going into these classes had no experience in how to write in AP format, the writing format followed by both newspaper and yearbook. They had to learn the style throughout the school year while trying to balance learning the techniques of design and taking photos. With having an introduction to journalism class, students will be able to develop these skills over the course of the year before going into a newspaper or yearbook.
This new class will be the gateway to building a very strong journalism program at East. Journalism will be co-taught by both Mrs. Callison and Ms. Heath. Be sure to email the counselors if you are interested in taking the class next school year.