2020 Rages On: California Suffers from More Extensive Wildfires
Wildfires have always been an issue in states on the west coast, with California usually being hit the hardest. This is no exception, as the past few months have been consumed with natural and manmade wildfires around the state.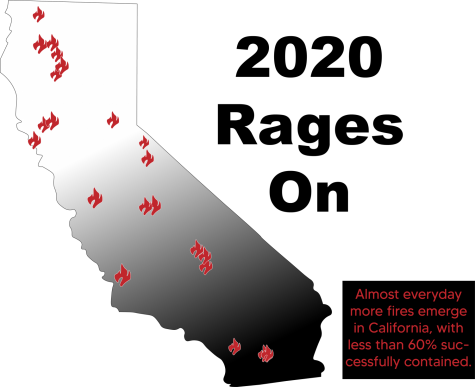 The fires are in the process of being contained, but the problem is that the firefighters cannot keep up with the new fires emerging almost daily. Beginning in late Aug., the SQF Complex Wildfire in southern California has currently engulfed over 150,000 acres in flames and is less than 60 percent contained. The Zogg and Glass fires, which are farther north, are currently burning in a combined 75,000 acres, and are zero percent contained, according to the California State Fire Department. 
While these larger fires are natural, and have been deemed as seasonal, the El Dorado wildfire is said to have been caused by a gender reveal party, as told by The New York Times. A smoke-generating device is to blame, and since the reveal was done outside, a fire was started by sparks from the smoke machine. This is not the first time an outdoor gender reveal party has started a wildfire. 
In April 2017, a similar pyrotechnic device started a wildfire in Green Valley, Arizona. This fire is responsible for nearly 45,000 acres of destructing, and the property damage is still being surveyed. Many fire departments and local California officials have called for a ban on at-home pyrotechnic devices that have led to these massive wildfires. 
While it is easy to throw yet another crisis into the pile of how 2020 has gone wrong, it is important to remember that natural wildfires are seasonal, and these are a regular occurrence on the west coast. Firefighters and volunteers are working tirelessly to contain the fires, and since Sept. over 10 significant wildfires have been completely contained. 
Leave a Comment