Vaccine Distribution Advances
The distribution of the COVID-19 vaccine has already played a big role in Indiana, as 450,000 vaccines have been administered according to IndyStar. Governor Eric Holcomb has pushed through the first two phases based on age but has had to slow down distribution because of the lack of doses. 
"Vaccines have been given out based on ages, so those in their 70s and 80s go first," local neonatal nurse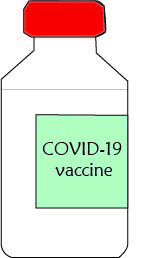 Diana Lay said. "They are trying to reduce the number of COVID deaths and illnesses in the elderly."
Beginning Jan. 6, those 80 or older were allowed to make an appointment to receive a vaccination. Abo
ut two weeks later, appointments were opened up to those 70 and older. Healthcare professionals and essential workers can sign up for vaccination but are technically not the cause for concern. 
"I myself have been vaccinated, and a majority of my coworkers have because we want our patients to feel safe around us at all times," Lay said. 
As of right now, other age groups and people in the community are unable to schedule their appointments until more vaccinations are eligible to be given. Many people statewide have shown their concern for the teacher eligibility to receive the vaccine. Teachers were scheduled to be vaccinated in the second phase but have been pushed down until further notice.
"The timing of the vaccines are unknown at this time, and it could honestly change in the upcoming weeks," Lay said. "The leaders pay close attention to data and will determine the next phases."
Children are also a hot topic when it comes to being included in the distribution process. They are seen in the last of the phases, even if they are attending school at this time. Students with little to no health problems are at the lowest risk if they catch COVID-19. 
"There isn't a lot of research done on children younger than 18, which makes it hard for parents to allow their kids to receive it," Lay said. 
Even though the distribution is currently at a standstill point, there is new hope for the community. Through all of the trials and errors this vaccine has brought, change is the goal for everyone.
"Wearing your mask and social distancing guidelines are still in play, even if you have received the full vaccine," Lay said. "It's essential for everyone to still be in this through the end."