Mac and Cheese? No Please
As a mac and cheese specialist, I have to say I was beyond excited when I heard about Chick-fil-A's mac and cheese. It debuted on Aug. 12 and that very night I made my mom go out and buy me some, and I have to say, I was not impressed.
To start off, this measly helping of mac and cheese cost almost three dollars, three dollars that I could have put towards some quality mac and cheese. Now, we all know Chick-fil-A cannot put a price on their Jesus chicken, but come on. Mac and cheese should be a dish enjoyed by everyone, no matter the age or socioeconomic level. 
Okay, this may seem like a minor complaint but they did not even include a fork. What am I supposed to do if I am eating on the go? This automatically put me in a bad mood.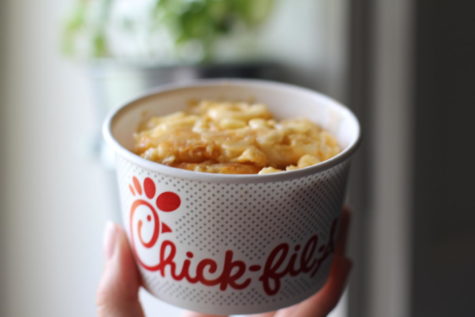 After fighting my dog for my bag of food, I finally sat down and prepared for this holy mac and cheese to wow my tastebuds … my tastebuds were not wowed. When I pulled out the small container of mac and cheese, I felt like I was staring at KFC's mac and cheese. It resembled that same cheap and sickening fake texture that KFC's has. Not to add, there were weird, hard burnt looking pieces inside the mac and cheese. 
I know what you are thinking, I should not be so hard on this mac and cheese if I have not even tried it yet. Well, after grabbing my own fork from home, I took a big bite. It tasted awful. I would have paid more money to eat a box of Kraft mac and cheese instead. It had such a fake taste to it and was not the proper amount of cheesy. I did not even finish it. 
All in all, I would not waste my money on this. It was poor quality and had an unsatisfactory taste. I am not going to lie, I expected more from a Chick-fil-A. I was just completely disappointed. I hate to say it, but this was not the mac-daddy of mac and cheese.