Ace, Ace In Your Face!
The East volleyball team prepares to enter sectionals.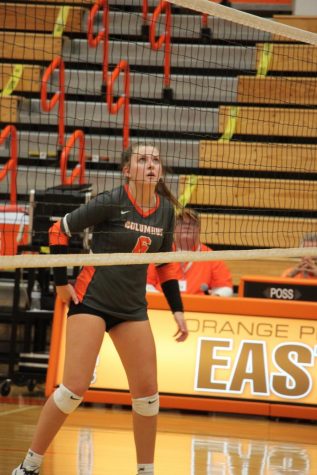 The East girl's volleyball team has officially hit the midpoint of their season. Varsity currently holds an 8-4 win-loss record. With this 2020 season came the appearance of the new head coach, Ellyn Mcintosh. Previously the assistant coach, Mcintosh has been adjusting to the new position.
"I love working with the girls and having that head role, but I also did not realize all of the extra work that came with being the head coach outside of just coaching volleyball," Mcintosh said. 
Mcintosh has had to take on new responsibilities outside of coaching, such as game preparations and plans. Not only has the team had a new coach, but also multiple new dilemmas due to the COVID-19 pandemic. 
"We weren't allowed to start practicing until July of this year when usually we would start in the spring, so that pushed us back quite a bit," Mcintosh said, "Some of our games or tournaments have been canceled or rescheduled because of the virus"
Game and tournament cancellations affect the process of improving as a team since the team isn't able to reflect on how they played. The girls continue to reach their fullest potential through practices and the available games they can attend.
"We want to make it as far into the season as we can, get better every game, and get better as a team," sophomore Gabbie Dean said. 
With sectionals approaching, the team is preparing for the schools they will face. With the win of sectionals under their belt from last season, the team is more motivated to make it out of regionals this season. 
"Hopefully we win against Floyd Central, and that would solidify our conference championship status, then after that, we would like to make a run for the state title," Mcintosh said. 
Winning the state title will depend on how well the girls work together to overcome the ups and downs during a game. The team has grown since the start of the season due to team bonding. The girls have grown closer through their favorite team tradition, pasta parties.
"We have pasta parties before every home game. It's a very enjoyable time that brings the team together," Dean said, "Plus the food is good."
The East girls volleyball team has encountered many alterations to their typical season but has been able to persevere through. East is ready to cheer on the ladies as they enter sectionals and fight for the state title.
Leave a Comment