New Beginnings and New Victories
Former East basketball coach, Kylie Wiechman, takes a leap and coaches the East Women's Golf team for her very first year. Wiechman has always loved golf. She played golf all four years in high school, where she qualified for the State Tournament and lettered all four years. 
"I have many fond memories of playing golf in high school and the friendships that were formed with not only my teammates but also others throughout the state I played against," Wiechman said. "Golf is a game that one can play her entire life, so it's still a sport that I regularly play and continue to meet people and form friendships along the way."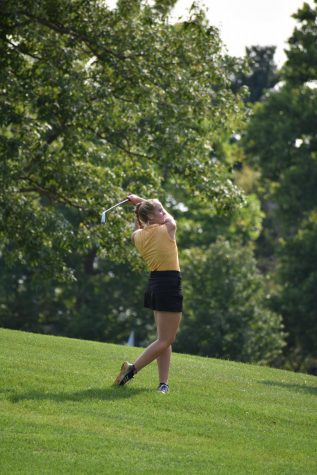 Over the past few years, Wiechman has learned the ins and outs and outs of sports. Not only has this knowledge paid off in her former coaching years, as an assistant coach for the first-ever middle school golf team, but also in future opportunities to come. These future opportunities led to a position being opened to coach for the golf team at East.
"I have coached basketball at CEHS and this is the start of my 10th season under Coach Brown. I have always wanted to be a varsity coach, and I felt this was a good opportunity to reach one of my personal goals."
Coaching for a new sport is thrilling, Wiechman jumped on the opportunity as soon as she could and could not wait to see what the season had to come. 
"As a first-year coach, my expectations were my reality. I think when you take over a program and you make some changes along the way; you're going to experience some bumps in the road. I think we maneuvered those bumps and successfully finished the course and I'm extremely proud of our team," Wiechman said.
Throughout the season the team had nothing but positive and hard-working attitudes.
"The feeling that we all had when we made it out of sectional was one I will never forget. As a first-year coach, taking the team to a new, much more competitive sectional, and then the achievement of the team to advance was the confirmation that the changes Matt and I made really paid off," Weichman said.
The overall season was a success for Wiechman and the team players. The season could not have been any better as Weichman pushed the girls to their very best. Wiechman cannot wait to continue this hard work and energy to the future years to come.