Ending the 35 Year Streak
For 35 consecutive years, the East women's swimming and diving team have lost to their cross-town rivals in the dual match up, but 2020 brought a turn of events. On Bulldog turf, the Olympians were able to end the streak and pick up a 100-86 victory. 
The Lady O's were able to capture the 'W' in nine of the 12 events. Senior Marin Wieneke won the 50 freestyle and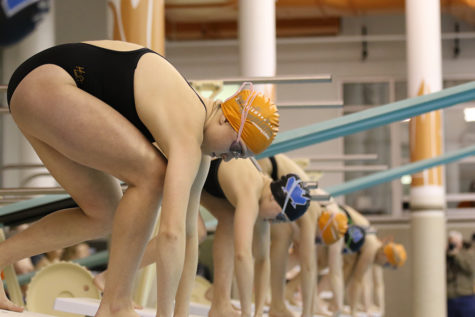 100 breaststroke, junior Ellie Proffitt won the 200-yard individual medley and 100 butterfly, and junior Karissa Miller won the 100 freestyle and 100 back. Aside from the individual swimming events, points were captured by the Olympians in the 200 freestyle and 200 medley relays. 
"At the end of the meet we were trying to contain our excitement but you could tell that our whole team was ecstatic about winning," Millier said. "Everyone did an amazing job and the effort that we put into this meet was outstanding."
In the diving competition, the Olympians scored major points by their two divers going first and second. Senior Cloie Mcdonald took the gold and Freshmen Gabbie Meier took the silver to gain a substantial lead for the Olympians. 
"I had been waiting for this win for four years, so I knew exactly what I had to do to make it happen and I did just that. I wasn't going to let anything take that moment from me," Mcdonald said. 
Through this unpredictable time of the COVID-19 pandemic, the whole team came together as one unit to produce this huge win; however, the team is not done yet. Their eyes are set on breaking more school records and winning as many conferences and sectional titles as possible to then move on to the State finals.