The Voices Behind the Game
With COVID cases on the rise this winter, ticket sales for winter sports were cut drastically compared to the fall. Each player is only allowed two tickets that must be used by household members, leaving many fans unable to watch the game. In the fall, BCSC live-streamed Friday night football, but with more winter sports needing to be streamed, senior Malachi Parks and East Alumni Collin Phillips and Zach Pierce stepped up to help.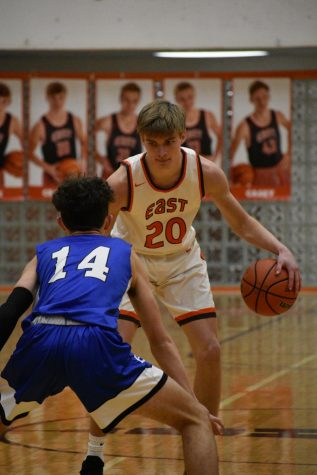 "Josh Burnett reached out to us about the possibility of live streaming games, and now I have helped with middle school basketball and all of the high school winter sports [boys/girls basketball, wrestling, swimming and gymnastics]," Parks said. 
Parks, Phillips and Pierce have all been friends through the connection of East football, but the three also share a connection of the love for broadcasting sports. 
"Broadcasting is always what I said I was going to do since the time I was a little kid," Phillips said. "I always loved sports, and when I realized very early in my career my professional athlete dreams were not likely, I took a liking to sports broadcasting."
The three have been able to gain experience for their future careers with now live streaming over 30 different events and having over 2,000 viewers on just one broadcast. 
However, apart from the work experience, they have been able to make lifelong memories with their job, and for Pierce, that became very personal.
"With the limited tickets this year I wouldn't have been able to watch my brother's senior season, but now I have been able to announce all of his games which is even more enjoyable," Pierce said. 
Although it is hoped in the following year COVID-19 will be less of a concern and life can return to a new normal, the live streaming crew is ready for any athletic event that comes their way.