Easter Basket Styling 101
Bunnies, baskets and bows oh my; April is here and that means the ever-popular holiday, Easter, is around the corner. One well-known symbol of the celebration is Easter baskets. Historically, these baskets have been around since the seventh century but were not usually filled with the modern pickings of plastic eggs and sugary treats. More so they held special symbolic meals reserved only for the holiday. But, a fun way to revamp these classic baskets is to learn precisely how to style them. Here are some tips and tricks to making a basket of your own.
Incorporate Greenery
Using faux plants, vines, leaves and flowers adorning any basket add a nice natural touch. By weaving them in, or securing them with hot glue, adding this earthy touch to any basket will look festive.
Pastel Colors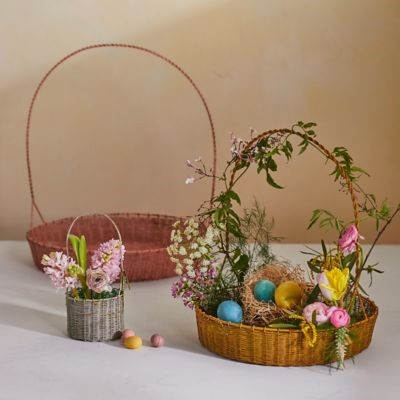 This color pallet screams spring. Pinks, blues, yellows and greens are great choices when considering what colors to incorporate. Whether with tissue paper scrunched around as filler in the bottom of the basket or as ribbon woven throughout the handle, pastels are perfect.
Alternative Basic Basket Fillers
Instead of the usual bland green Easter grass, try using brown paper Easter grass. Going with the natural-neutral theme, this looks ten times better and is more environmentally friendly.
A Specific Theme
While it may be easiest to throw in candy eggs, a few gift cards and call it good, picking out a theme for the basket is highly recommended. Some ideas are baskets made with toys that are all the same color, food-related with multiple gift cards to different places, pop culture related with interests like superheroes or princesses, or a personal favorite a crafting themed basket. 
Happy Easter and happy crafting!
Leave a Comment