Celebration of Conservation: A Look at Indiana Marking the National Parks Centennial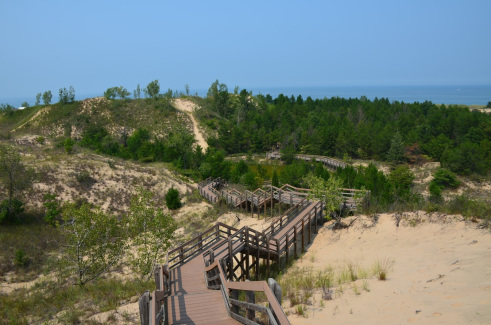 Teddy Roosevelt has two lasting legacies: getting his face carved into a mountain and the National Parks system. That Parks system turns 100 this year and joining in the celebration will be Indiana's two National Parks, Indiana Dunes National Lake Front, and Lincoln Boyhood Home. Like most  parks across the country, Indiana's parks will be having special events to mark the centennial of the Parks System.
Down in southern Indiana, the Lincoln Boyhood Home will be having a weekend celebration on September 9 and 10. The celebration will be in honor of both the 100th anniversary of the National Park Service, and Indiana's bicentennial. Those willing the three hour drive for the (Bi)Centennial Weekend will be rewarded with the dedication of a Lincoln Statue, and the running of Indiana's Bicentennial torch.
The Indiana Dunes took a more high culture approach to the Parks turning 100 by hosting a concert on August 27 to help mark the historic anniversary. The National Parks Service helped pull in the Northwest Indiana Symphony to play on the west beach of the dunes. With lawn chairs stretched along the coast, classical music helped herald the arrival of a new century of conservation.
Those still wishing to make the four hour trek up to lake Michigan can head off for the weekend of September 16 and 17 to enjoy a demonstration of classic folk music by local musicians on the first day, and an Apple festival on the second.
However, celebrating a century of conservation doesn't have to be tied to festivals, or even to the National Parks. Those looking to use the Park's Centennial as an excuse to take their friends on a walk in the woods have plenty of options. Indiana has 25 state parks located anywhere from the half hour trip to Brown County, to a four hour trip to Potato Creek.