Jasmine Padilla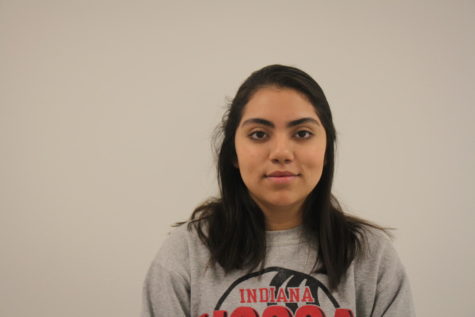 Many people fear being the new kid, not knowing where to go, looking worried, and wondering what to do next. Whether it's a new school or simply a new job, being the "newbie" can frighten many teenagers.
That wasn't the case for 16-year-old sophomore Jasmine Padilla. Living in California, Padilla had a blissful childhood continuing into the memorable teenage years; Padila enjoyed the California sun before moving to Indiana when she was 12 years old.
"I went to a good school, had the best friends, and I mean,I was just a normal 12 year old girl," Padilla said.
Having an older brother also played a big part on how her life changed. Caesar Padilla visited the northwestern state of Indiana to simply to spend some time with his godmother during that time he had. Padilla had no idea at the time that such an effortless statement said by Padilla's brother would impact both of their lives.
"He told my parents he really enjoyed Indiana and they just decided to try it out.", said Padilla.
Being a "said and done" decision, the Padilla family packed up and moved to Columbus, Indiana.
Indiana has its harsh winters and her and her family came in the blistering cold month of December, right after Christmas.
"I got really excited because when we first showed up there was snow on the ground, instead of it being 75 and sunny," Padilla said.
Because it was below freezing, the family didn't have many opportunities to go and explore Columbus. They did take time to  look into schools, however. Eventually Padilla settled on Mt. Healthy and transitioned into becoming a middle school student.
"Even though I was upset we were moving, I warmed up to the idea and I like where I am now," Padilla said.
Moving to a  different state can be scary, but Padilla made new friends and goes to a "good and fun school."
Spending twelve years in her home town and these past four years in a now familiar place, Padilla is enjoying this chapter of her life, looking for more in the future.