Nick South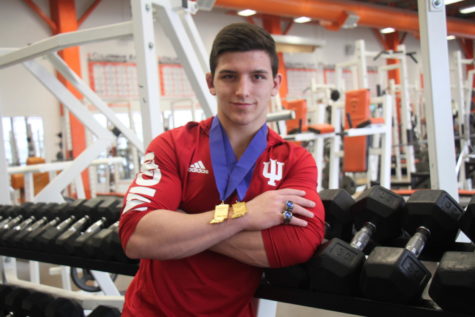 Senior Nick South's name is very renowned at Columbus East High School. Not only do you hear his name murmured throughout the halls, but you can find his picture on the wall of fame, as well. The reason behind all the fame comes in two words: State champion.
In 2018, South became one of three wrestling State champions from East. He had a stellar season with 48 wins against only one defeat. He also added a Conference, Sectional, Regional, and Semi-State title to his name.
With State right around the corner again, South is looking to get back in the finals and become a two-time State champion.
"The goal is to win State, it's always been the same," South said. "I feel much better since I've been there all ready, so I want to be as aggressive and dominant as possible."
Last year, South had partners in graduated seniors Graham Rooks and Dawson Combest. In 2018, Rooks was a State champion and Dawson Combest got fourth place. This year, he has new partners to get him to his goal.
"My partners this year are still some of the best wrestlers in the state. I have Cayden Rooks who is [currently] ranked number one in the state, a State champion and runner up, Jake Schoenegge who is ranked number five in the state, he got third last year and was a State qualifier the year before, and I have Jacob Bolte who is ranked number one in the state and was a State qualifier last year," South said. "So it's a great room and I have great coaches, as well."
The team goal for this year is to be team State champions. In order to achieve that, they have to have tough practices. But the tough practices aren't an issue for South.
"The practices have been pretty consistently tough this year, but we all know that we definitely have to have that in order to achieve what we want," South said."Both the coaches and us wrestlers know that we definitely work the hardest in the state and I can't wait to show it."
After State this year South achieved his goal of becoming a two-time State champion. After a dominant finals match and a backflip.