Tied Up On the Field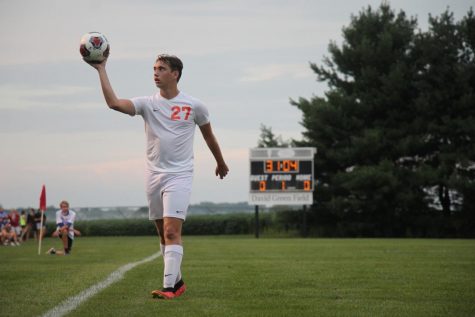 It was another thrilling night for high school soccer as the annual cross-town game ended in yet another thriller.
After a very competitive first half, the Olympians and the Bulldogs both went into halftime still searching for their first goal. It was until 20 minutes into the second half when the Bulldogs finally made their mark. 
With an unlucky foul by Junior Joe Hefner just outside the box, Columbus North was able to send an easy cross over the middle for Freshman Christian Cardoso to head the ball into the back of the net, but the Olympians fought back.
"I thought as a team we kept our heads up and looked to push forward to score, " Senior Adam Wear said.
After an aggressive slide tackle from the Bulldogs, Junior Branson Young was able to draw a foul with 20.1 seconds left on the clock. As the Olympians packed the box, Junior Chris Quisenberry lined up and curved the ball into the back of the net to tie the game with just 16 seconds left. 
While the game ended in a tie, the last second goal seemed to leave the Olympian fans leaving the field with a smile and the Bulldog fans leaving with a frown.
https://youtu.be/Uqv5Db2iYVE  (Quisenberry Goal 2:04)