Kicking COVID
Life this school year is very different from those in the past, but the biggest change for most kids in high school right now are sports. The women's soccer team here at East is one of many teams being impacted by COVID-19, but that will not stop them from playing.
Senior Hannah Hemmerlein has been on the Varsity team all four years of high school. Her final year on this team had their own 'new normals' starting when practice first started.
"Over the summer they would have to make us wait in our cars and send a message that groups could come out one at a time. They would take our temperature too," Hemmerlein said.
Although life looks a little different across the board, the team has been able to make it through their season without interruption.
"I'm just happy we've made it mostly through the season, because for a while we didn't think we were going to," Hemmerlein said.
Not only does this season look a lot different for seniors, but the freshmen girls on the team are being affected as well. Since this is their first season doing a high school sport, they did not have the opportunity to experience it before the pandemic hit.
Freshman Nadia Harris gets to spend her first year on Varsity, which has been a very rewarding experience for her.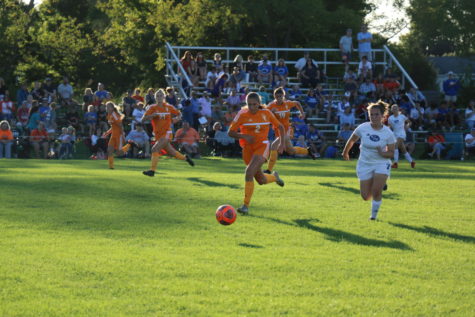 "If I'm being honest, I was a little surprised that I made Varsity, but I am so glad that I did. All of the girls I play with still include me, even though I am younger. Being on Varsity pushes me to work even harder and improve myself," Harris said. 
She also mentions how she has been coping with the pandemic, especially in a whole new environment. 
"Things are definitely different, but life is still going on. I am so grateful that I still get to play soccer, and getting to go to school helps me cope with the whole pandemic," Harris said.
Harris plans to continue working harder as she progresses in high school soccer. 
"I'm looking forward to continuing to improve my game. I am also excited to meet new people, become a leader on the team, and continue to have a great high school experience," Harris said.
Although this year looks different for everyone, our teams are still working hard to bring home a win.