Striking Against Sales: The Biggest Organized Protest in Human History by Indian Farmers
Surrounding the Delhi border in India, farmers across the nation, mostly Punjabi, have gathered to protest the newly introduced market-friendly reforms which vendors claim are threatening their prosperity.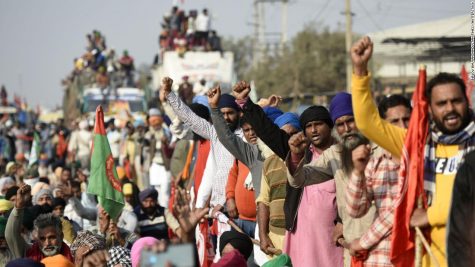 According to TIME, these farmers have been protesting for approximately two weeks, in fear that new mandates will create an imbalance in power of the sale of fresh grown items between wholesale markets and large corporations. They have set up communal services as they plan to spend the foreseeable future on the border. Stalls with toothbrushes and paste, tea and biscuits and one another's presence is keeping them company in a time when their livelihoods are at stake.   
Despite minor interactions between protesters and the government, a resolution has yet to be reached. The reforms placed by Prime Minister Modi's government are said to be vital to increase the productivity and efficiency of India's economy as half the country's workforce relies on farming, but the profession only racks up 16 percent of the country's GDP (gross domestic product). 
Prior to the laws being passed, Indian farmers were guaranteed MSP (minimum support prices) in order for them to sustain their business and plan to invest in crops for the following season with the help of their financial security, as reported by TIME. Following the three new reform bills that have been passed, farmers are at risk of exploitation by large corporations. 
Though at times it is difficult to understand why situations in other parts of the world or even in our country matter to us, it is important to know that we do feel the effects of such laws and reforms. 
India is one of the global leaders in agricultural output and we heavily benefit from and rely on their culture and resources. From their spices to medicine to clothing, the imports we receive from India is thanks to the farmers and wholesale markets that make such products available and affordable. 
Without the local farmers, Indian agriculture could face a mass decline and though the Indian government is willing to give up on farmers, we must not give up on them.
View Comments (1)