The Return of Valentine Crafts
The Craft Corner is back for 2022. I hope everyone was able to check out The Oracle's third issue with a fun holiday craft hidden in A&E. The little decorations turned out adorably and right here on CEHS News the beanie ornaments were tried by many too. With that, the holidays are over and February is here. This means Valentine's day is fast approaching so here are a few fun and easy ideas to make as cards or decor. 
Window Heart Suncatchers
Material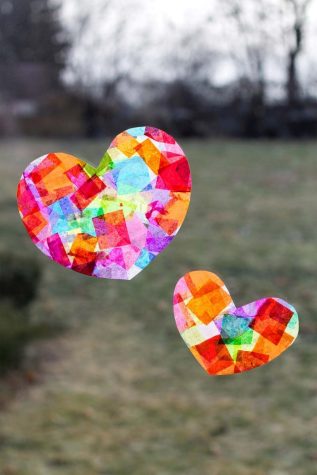 s:
Multiple colors of tissue paper
Contact Paper (similar to parchment paper but has adhesive covered sides)
Scissors
Steps:
Cut many squares out of the tissue paper in varying sizes.

Trace out two hearts onto the contact paper.

Lay each square of tissue paper onto the contact paper inside of one heart.

Cut out both hearts and place the one without any tissue squares on top of the other, creating a sandwich of contact paper and tissue squares.

Display the stained glass hearts in a window with lots of light for an optimal effect. 
Scrapbook Paper Garland
Materials:
Multiple kinds of scrapbook paper, patterned and solid colored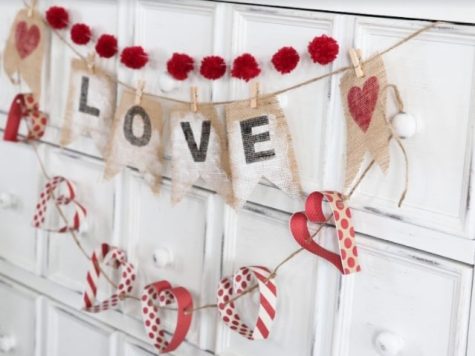 Glue
Staple
Hole punch
Twine
Scissors
Steps:
Using the scissors cut two strips of paper. One that is patterned and one that has a solid color, they should be around 12 inches in length each.

Glue the patterned and solid colored strip together to make a double sided paper strip.

Take the paper and fold it in half gently.

With the ends of the paper strip, fold them so that curves form in the paper towards the top, then fold inward and down. 

Secure the ends facing downward together with a staple.

Holepunch two holes in each side of the heart at roughly the same height then string the twine through. Tie a knot in the twine after each heart to secure it in place.

 Repeat steps one through six until there are enough hearts for the garland.
Happy Valentines (or Galentines) Day and happy crafting!
Leave a Comment