Meet the Staff: Emily Ostrom
Writing is all around the world. It is a form of art that allows people to express themselves and tell stories to others. It takes a lot of creativity, which junior Emily Ostrom does not lack.
Ostrom loves creative writing and has been doing it for some time now. 
"I would say back in 7th or 8th grade. I would just start writing little stories for fun but never got around to finishing them," Ostrom said.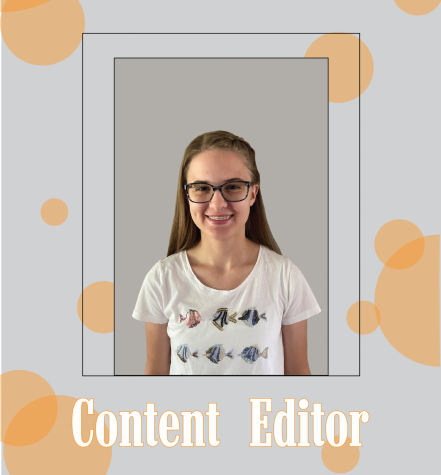 It takes some work to write up stories. You have to gather everything together, such as the unique plot, characters and their development, underlying theme, visual descriptions, dialogue, emotional appeal, and point of view to end with a finished product. Sometimes it may be challenging to come up with new ideas, but in the end, it is worth it.
"I love creative writing because it allows me to use my imagination and make up fun stories for others to enjoy," Ostrom said.
To no surprise, Ostrom hopes to one day pursue a career in writing.
"My dream job would be to be an author for middle school age fiction, or for a series such as Harry Potter," Ostrom said.
Ostrom is a returning member of the Newspaper staff. However, the main reason she joined the first time was surprisingly not for writing.
"Actually, I wasn't planning on taking Newspaper at all," Ostrom said. "I was originally in a C4 baking class but decided to drop it, and Newspaper was one of the only classes left available. I knew that I already had two friends in it, so I decided to try it out."
Even though she only joined at first because of her friends, she has developed a love for the class.
"I am really glad that I joined Newspaper though because it has given me a lot of opportunities to expand my writing skills," Ostrom said.
Writing may be easy for some and for others it may not. It takes motivation, creativity and passion. Do not be discouraged though if it does not come easy at first.
"I would say to try different styles and genres and see what works best for you," Ostrom said. "Creative writing is meant to be unique and, well, creative!"
Leave a Comment